Description
Registration Includes: An official certificate, a 2 year membership to our online Animal Emergency Resource Center, your choice of the 88 page full color class manual either as an E-book (View Only/Cannot be Printed) or a printed copy  (additional fee), businesses, organizations and groups may request a professional, frameable certificate to hang in their place of business to promote that their staff is trained. Certificates are available for downloading and printing within 72 hours after the class is held in your membership account. Our office must confirm with the instructor that you did attend and pass all of the requirements for certification.
This class in no way will teach how to administer veterinary medical care or how to perform any skills restricted by law to licensed veterinary professionals. It is an introductory emergency first aid course for horse owners and equine professionals to learn how to manage medical emergencies involving horses how to  until veterinary care can be ascertained.
This class is a classroom style course with some demonstration of first aid skills.
Topics include:
Transporting and restraining sick and/or injured horses including cast and down horses
How to perform triage and physical examinations, including obtaining vital signs
How to manage traumatic injuries such as wounds and fractures
How to apply an emergency leg splint
What to do if you encounter an emergency while on the trail or at a horse shows/event
How to prepare an emergency plan and equine first aid kit for your farm
How to provide first aid for the following emergencies:

Severe Bleeding/wounds
Traumatic Injuries/lameness
Burns
Eye injuries
Digestive Issues
Heatstroke
Snake bites
Poisoning/Toxicity

Using the FEMA curriculum for disaster management, learn how to do the following:

Manage horses in a disaster such as floods, fire and loss of power
Determine the farm's susceptibility to hazards
Identify actions to take in order to reduce animal and human harm
First aid supplies such as equine first aid kits, specialized equine thermometers, stethoscopes, etc are available to purchase with your registration.  
Visit our online store for a list of items. 
Items purchased at least 6 days prior to the class will be available at the class.  Any items purchased 6 days or less will be mailed to you.
*Participants will receive a certification in equine emergency first aid and Emergency Response*
About the Instructor
Amy D'Andrea MEd, RVT, CVT, VTS(EVN)
Amy has been a credentialed veterinary technician for over 28 years and holds registrations and certifications in multiple states.  She is a graduate of the Mount Ida College Veterinary Technology program where she completed both her Associates and Bachelors Degrees in Veterinary Technology before going on to receive her Master's in Education from American Intercontinental University.  Most of her career has been dedicated to teaching in AVMA Accredited Veterinary Technology programs where she achieved the rank of Associate Professor. Some of her courses included equine nursing, farrier science, equine emergency care and large animal management.  While teaching in higher education, Amy became a nationally renowned speaker, authored various publications, including 5 textbooks, and became one of the industry's leading subject matter experts in veterinary technology education. She has earned a multitude of awards including the Teaching Excellence Award, Distinguished Alumni Award and the Hill's Scholarship.  Amy served for many years on the Executive Board of the National Association of Veterinary Technicians in America where she was the President in 2006.  Additionally, Amy served on the organizing committee for the Academy of Equine Veterinary Nursing Technicians and was the chairperson for the Committee on Veterinary Technician Specialties for 3 years.
____________________________________________________________________________________________
Continuing Education Credits for Veterinary Technicians
  If you are a veterinary technician and want to receive RACE approved CE credit for completing this program we encourage you to create your free RACEtrack account with AAVSB. This site will sync to RACEtrack, the AAVSB's CE tracking system, and provide a seamless connection between CE providers, licensees, and regulators. You will be able to access all of your CEU in one location and submit them to your state board.  If you choose not to use RACEtrack you will be required to write your CVT, RVT or LVT number and state of issue on the class roster with the instructor so we can provide you with a manual certificate.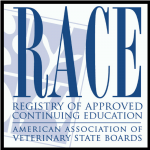 "This program 20-742677 is approved by the AAVSB RACE to offer a total of 0.00 CE Credits (0.00 max) being available to any one veterinarian: and/or 4.00 Veterinary Technician CE Credits (4.00 max). This RACE approval is for the subject matter categories of: Category Three: Non-Scientific-Practice Management/Professional Development using the delivery method of Seminar/Lecture. This approval is valid in jurisdictions which recognize AAVSB RACE; however, participants are responsible for ascertaining each board's CE requirements. RACE does not "accredit" or "endorse" or "certify" any program or person, nor does RACE approval validate the content of the program." 
3 Professional CEUs to licensed veterinarians (click here to read our continuing education policy for veterinary professionals)
Class qualifies for CEU with the Professional Association of Therapeutic Horsemanship International